USING ART TO ADAPT TO CHANGE AND LOSS
It has been said that during times of stress it helps to be flexible and adaptable.  Flexibility has a kind of strength that combined with the ability to adapt makes one resilient and purposeful in times of upheaval.
Well Beings Studio located in Fullerton, California was born ready to adapt in difficult times; ready to read, feel, create, and heal. It began in 2018 with the flagship program, The Little Green Monster Project, an original book, and workshop created by the Executive Director Sharon Frances, a breast cancer survivor, a parent, and an artist with a doctorate in education. The mission: to use the creative arts to open communication and to support the well-being of families impacted by cancer and other traumas.
Frances was diagnosed with breast cancer in 2017 and the arts made a strong impact on her recovery.  She wrote poetry daily and created block prints (an ongoing poetry book series) and hand lettering projects which were given to friends and family who helped her along her cancer journey.  With a strong desire to help other families facing grief and loss she wrote a book, The Little Green Monster: Cancer Magic! She raised money for the book's illustration and publication, using proceeds for workshops. In its first year the project supported over two-thousand families, offering free workshops and donations of books.  Testimonials from families and educators praise Frances and Well Beings Studio as "Heroes" and are filled with words of gratitude and inspiration.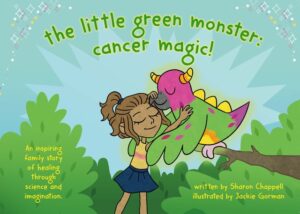 The Little Green Monster: Cancer Magic! was illustrated by first-time book illustrator, Jackie Gorman. Balancing the book project along with working on her thesis in film was stressful but Gorman found that the experience grounded her.  "Art is an emotional remedy," said Gorman, "that allows me to focus solely on completing one task: the piece.  I connected with the characters in the book and they really came alive to me page after page.  It was an honor to illustrate a book that I knew would bring the same feeling of comfort I experienced to so many families, and that was a major motivation for me."
Well Beings Studio was born from the understanding that the arts can reduce anxiety, depression and pain and can increase the quality of life for cancer patients and their loved ones. Frances states, "We use the arts to help when no explanation will do.  We use paint and images, movement, and rhythm to shape our lives during times of stress, fear, or despair.  Sometimes we don't know what type of art will help us and we just need someone to open the door to a space with tools and questions and unconditional regard."
When Covid-19 hit, Frances shifted quickly offering online arts workshops and building resources through technology to reach families during isolation and social distancing. She understood that families needed additional support, innovative ways to stay connected and to "feel good during a scary time".    Adapting to a new normal, she began writing a blog of creative activities and distributed them over social media and email newsletters.  She reached out to other artists and to partner-organizations for resources that identify audiences and gather participation for virtual, in-person free creative experiences.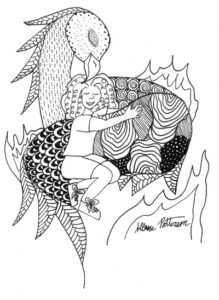 Since June, several projects have been developed including a podcast fostered from a play written by Frances entitled Ash & Feather (http://wellbeings.studio/ashandfeather)). The Podcast, Ash and Feather: A Bird/Girl and Her Father's Cancer was directed by Dr. Daphnie Sicre, enacted by Loyola Marymount students, and illustrated by Loyola Marymount student, Allesse Patterson, who also plays Phoenix in the play.   It tells the story of two Black American dads and a teen daughter Phoenix who take a journey through brain cancer.  Phoenix uses poetry, songs, fables, and love to develop a rich sense of self.  Patterson found laughter in the play and her illustration for Ash & Feather reflects Phoenix's rise from the ashes of hardship where cancer becomes only a minor character in her story.   Patterson explains, "A situation like cancer happens and it's hard to find that laughter again." The podcast features 6 episodes and a bonus episode exploring emotional well- being, during cancer and Covid-19.
Sharon Frances's poetry from Ash and Feather beautifully expresses her journey of trauma and perseverance:
Feathers and skin.  Beak and chin.
Smiles both ways. Cries some days
Holding myself together
in the blue
of a blackberry Beak and chin. 
Feathers and skin. The juice down my front a stain.
I want to begin again. 
Well Beings Studio continues to expand, partnering with over sixty organizations, hospitals, schools, libraries, and youth groups and has received numerous grants and awards.  It has facilitated thirty free literacy and creative arts cancer events held in Orange County and is committed to inclusion, equity, and diverse perspectives; intentionally engaging with BIPOC and LGBTQ communities who are disproportionately impacted by cancer and Covid-19.
Along with its flagship cancer programs Well Beings Studio is in the process of filming video creativity workshops to accompany their blogs and in October they will be hosting free virtual arts workshops; a monthly dance party, weekly art recipes, a five-session weekly teen zine, along with several other projects scheduled through the year such as:
Monster in Me Music Album and Virtual Dance Camp (http://wellbeings.studio/monster-inme/)
Stories Inside Out Dance Residency (http://wellbeings.studio/arts-residency-stories-inside-out/)
Ocean in a Drop Visualizations and Meditation    (https://soundcloud.com/canceropensdoors/sets/ocean-in-a-drop
Frances is unstoppable.  Today, she has completed all of her cancer treatments and there is no evidence of disease.  Despite the many side effects of ongoing endocrine therapy, she is happy and thankful for her life and the love of her family who helped her get through her journey. "I feel empowered now to work toward my goals with the self-confidence and self-worth that I never had before cancer."
Reflecting on creativity, her well -being and the pandemic, Frances writes: "Years ago my daughter Gillian fell down and scraped her knee. She cried from the pain and worried about the bleeding.  As she sniffled and wiped her nose on her sleeve, she started to paint.  She dipped her brush into the water cup and slid it through the colors.  She watched the brush push color across the paper, making swirls.  I understood her desire to externalize emotion, to give feelings a space and shape when talking seemed too much. After being diagnosed with breast cancer in 2017, the arts saved me too."
Please visit Well Beings Studio, www.wellbeings.studio.com and discover the many ongoing programs and projects offered.  More information regarding Sharon Frances can be found at (http://wellbeings.studio/ashandfeather)